Pet Insurance from Farmers is the Smart Way to Love Your Pet
There are many tough choices we're faced with in life, but Farmers believes you shouldn't have to make one when it comes to your pet – like when your pet gets sick or hurt and the vet bills start adding up.
Pet Insurance provides coverage when your pet needs medical care for unexpected accidents, illnesses, emergency care and every day conditions as well as provides optional coverage for routine and preventative care.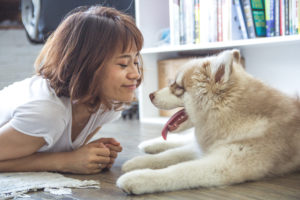 What can pet insurance cover?
Farmers has chosen Pets Best, a trusted leader in Pet Insurance to offer the following coverages:
Accident & Illness Plans:
Protect your pet by making sure that they're covered for unexpected accidents and illnesses.
Plans from Pets Best offer you comprehensive coverage for:
Injuries
Illnesses such as allergies and diabetes
Surgeries
Hereditary and congenital conditions
Prescription medications
Cancer treatments
Acupuncture & Chiropractic care
Physical rehabilitation
Routine/Wellness Coverage:
Routine and preventive care helps to catch diseases early to help your pet have a longer, happier life. Coverage includes annual wellness exams, routine shots, flea/tick/heartworm medications, spaying & neutering, routine diagnostic tests, routine dental cleanings, and micro-chips. Add this coverage to your Accident & Illness Plan for an additional premium.
Specialized Coverage Plans:
Pets Best offers Accident Only Plans to cover broken legs, snake bites and accidental swallowing for customers wanting coverage just for accidents.
Why buy Pet Insurance through Farmers and Pets Best?
5% discount on Pet Insurance for Farmers customers
Choose any licensed veterinarian or specialist
File claims and manage your account online
Most claims processed within 5 days
Free direct deposit reimbursements
Coverage for about the cost of pet food
Start today with an instant Pet insurance quote online, or contact us today.