Why Farmers Home Insurance is a Smart Choice
Your home is probably your most valuable financial investment. But it's so much more than that! Your home represents your family, your lifestyle, your escape from the world outside, and that reward for years of hard work and dedication. And Farmers understands how vital it is to protect that. That's why we've spent 85 years building a Smarter Choice in Home Insurance. With Farmers Home Insurance, you get so much more than just coverage.
Insuring your house? Find out what's covered and what's important to know when it comes to protecting your property.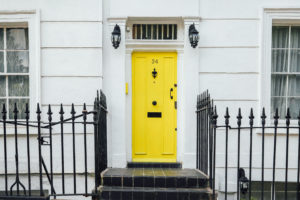 Home insurance with Farmers means:
Control over your policy
Register your policy and get complete control over your home coverage. View, manage, change, and update your policy online, and from almost any device.
Personalized attention
Your personal local Farmers agent is part of your community, understands your needs, and can help improve your coverage and discover new discounts! Plus, they're right down the block whenever you need them.
24/7 protection
Smart homeowners deserve smarter prices, and that's what Farmers Home discounts are for! See what home insurance discounts you're eligible for, and learn what you can do to reduce your premiums.
Smart savings
Take advantage of our industry knowledge and resources! Understand how much home coverage to carry, know what homeowners insurance covers, and even take a tour through the Farmers clickable house to explore what we can do for you!
Knowledge and resources
We know that Home can mean a lot of things to different people. That's why Farmers offers Home Insurance products for a wide variety of homes, like Traditional Homes, Condos, Mobile Homes, Specialty Homes, and Renters.
Options
When the roof leaks at 3am, or a tree falls through the garage, our award-winning Farmers Claim Services is here! We're ready 24 hours a day, 7 days a week to process your claim, guide you through the process, and get you back to normal quickly.
Farmers free built-in benefits go beyond standard home coverage
Smart homeowners deserve smarter protection. That's why Farmers includes our benefits package in every Homeowners policy, giving you the extensive coverage you need without the added costs.
Farmers Smart Homeowners Policy goes beyond other's basic coverage with:
Claim Forgiveness
Bad things happen, even to good homeowners. That's why Farmers waives the surcharge for a home claim if you go 6 or more years without filing one.
Cosmetic Damage Coverage
Your home just went through a real rough time. There's some functional damage, and right now it looks the worse for wear. Well Farmers will cover any reasonable cosmetic damages to your home when you file a claim for the functional damages.
Customize your Home insurance policy with plenty of coverage options
Farmers knows that when it comes to your home, bare bones, "one-size fits all" coverage just won't cut it. You need insurance you can count on, and coverage you can make your own. After all, every house isn't the same…so why should every homeowner's policy be?
That's why Farmers offers a variety of smart coverage options, to let you build your homeowners policy your way. So when the unexpected happens, you know that your insurance will be there working for you, exactly the way you need it, to make things right again.