Minimize Your Business Risks with Business Liability Insurance
Everyone makes mistakes, and unintentional accidents in your business may lead to injuries that can be physical, financial, or psychological. Anyone who comes in contact with you or your employees can file a claim or lawsuit against you for many reasons, from funds needed for ongoing medical attention to unfulfilled promises stated in a business contract.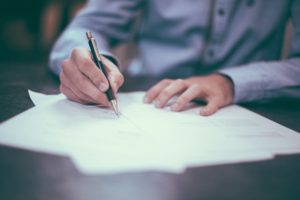 Business Liability insurance helps your business stand strong through challenging situations by covering the associated cost of legal defense and legal damages you are obligated to pay, up to the policy limits selected. Connect with Aaron Reetz who's an expert in working with business owners, and select from a wide range of options that fit your individual business insurance needs.
Many scenarios, one solid, customized solution
Your unique business faces a wide range of unpredictability, and Farmers Business Liability insurance can help businesses mitigate potentially devastating lawsuits. Coverage examples include:
Premises and Operations
A customer at the store you own trips over a fixture and sustains a significant injury from the fall. Bills for the hospital visits are submitted to you for payment. Farmers Business Liability Insurance can cover these charges, as well as the business owner, should he be sued by the customer for negligence.
Products and Completed Operations
The deck you built a year ago was flawed, causing a new building owner fiscal disaster. A legal notice appears in the mail informing you of a lawsuit. The case goes to court and your former client wins. Farmers Business Liability insurance can handle the defense costs and, if it comes to it, the legal damages for which the policyholder is responsible.
Cyber Liability and Data Breach
You don't know why or how, but your computer system has been hacked. And now all your confidential business and customer data could be online, free to trade and impersonate. The least of your worries is finding the source of the data breach and repairing exposed computers. Your focus is now on damage control and possibly recovering stolen data. Fortunately, your Cyber Liability insurance coverage can help provide you with legal and forensic assistance, as well as free data security risk management services for your customers.
Employment Practices Liability
If you've been in business for a few years or operate in an industry with high turnover rates, you've likely hired many employees, whether temporary or full-time. The truth of the matter is that any of these employees can bring legal action against your business at any time. Farmers Employment Practices Liability insurance can help cover your business entity, directors, officers and employees if you are accused of wrongful termination, harassment, discrimination, and other employment-related offenses.
When it comes to liability, it's not all business, either. If you own a sole proprietorship or partnership and don't have Business Liability insurance coverage and your business income can't cover the entire cost of a claim or lawsuit, the rest of the funds might have to come from your personal assets. In some situations, corporation owners can even fall victim to personal liability. Therefore, it pays to have liability insurance that's right for your business in more ways than one.
Your Safety and Satisfaction are Number One
Not only does Farmers offer some of the best, personalized service and fast, expert claims handling in the business, but it also makes help available to your business to prevent incidents from recurring and/or mitigate potential future losses. Farmers has highly trained loss-prevention experts on staff who can guide you through educational safety programs and provide supporting materials designed to help improve employee awareness. Contact us to get more details today.